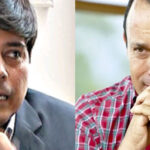 The key witness in a criminal case against the brother of former President Alvaro Uribe for being a paramilitary leader in the 1990s, turned himself in after years in Venezuela, weekly Semana reported on Monday.
Former police major Juan Carlos Meneses fled the country after facing threats following his accusation that Santiago Uribe, the younger brother of the former Colombian president, of being the leader of a local paramilitary group in a town where the Uribe family had a business.
MORE: 'Uribe's brother led paramilitary death squad'
In his 2010 testimony, Meneses accused Uribe of being the head of "The 12 Apostles," a fearsome paramilitary group that was active around the town of Yarumal, Antioquia during the 90s.
Under Uribe's alleged leadership, the group carried out "social cleansing" operations during which alleged sympathizers to leftist rebel groups like the FARC and ELN, and small-time criminals were assassinated.
Meneses admittedly collaborated with the paramilitary group while serving as the local police chief in 1994.
Since then, he received numerous death threats for "knowing too much" before he decided to testify in order to become a key witness against Santiago Uribe, according to the Washington Post.
Before testifying, the former police chief fled the country first to Venezuela and then to Argentina where he testified before Argentine Nobel Peace Prize winner Adolfo Perez, among others, before returning to Venezuela where he has been hiding until his surrender.
After Colombian prosecutors reopened an investigation into Uribe in September 2013, also based on Menses' accusations, authorities issued an arrest warrant for the key witness after he failed to appear in court for the second time in November.
MORE: Uribe's brother interrogated over paramilitary ties and murder
The former police major turned himself in after Colombian authorities and Interpol issued an international search warrant against him for the alleged involvement in several murders.
"I will not run away from authorities for the rest of my life. I am turning myself in," he told Semana before he made his way to meet Colombian officials.
In the interview he confirmed his accusations against Uribe and announced that he has "documents, photos and other incontrovertible evidence" to support his accusations.
Furthermore he claimed that he was not hiding because he wanted to avoid legal prosecution, but because "my life and the ones of my family were being threatened."
Referring to the accusations of being involved in the homicides he stated that "I am not avoiding this accusation made by the Colombian justice system, but they have to listen to me and evaluate my level of participation in all these homicides. I will assume my responsibility but not as the person who ordered the assassinations, because that's not true."
The prospect of new evidence presented by Meneses could add new momentum to the investigation into the links between Uribe and the paramilitary death squad which was reopened in September after the testimony of a new witness was revealed.
MORE: Farmhand is star witness in investigation against Uribe's brother
Yarumal, Antioquia
Sources
The post Fugitive key witness in Uribe brother's paramilitary case turns himself in appeared first on Colombia News | Colombia Reports.
Since you're here …
… we have a small favour to ask. More people are reading the Today Colombia than ever but advertising revenues across the media are falling fast. And unlike many news organizations, we haven't put up a paywall – we want to keep our site as open as we can. So you can see why we need to ask for your help. Updating reports on Today Colombia takes a lot of time, money and hard work. But we do it because we believe our reports matter.
If everyone who reads Today Colombia, who likes it, helps to support it by clicking our ads, our future would be much more secure. Do you part, click on an ad today.