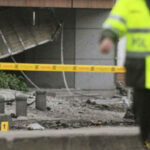 A car bomb exploded on Thursday in a town in northwest Colombia. According to local authorities, rebel group FARC is behind the attack that injured a security guard.
The car bomb went off on Thursday night in a parking lot belonging to authorities of the town of Ocaña, hurting the watchman who examined the suspicious car after it had raised his attention.
Local authorities were not able to identify the original target of the attempted bomb attack up until now, because the vehicle with a Bogota number plate was hauled from the municipality's town center because it was standing in a no parking zone close to the local bus terminal.
According to Bogota radio station Radio Santa Fe, the department's authorities reported that preliminary investigations indicated that Colombia's oldest rebel group FARC could be responsible for the failed bomb attack.
The rebel group — like a number of other illegal armed groups — is highly active in the area around Ocaña.
If the FARC proves responsible, the incident would be the FARC's second bomb attack effectively targeting civilians 2014; The rebels claimed responsibility for planting a motorcycle bomb that left one dead and 56 injured in the western city of Padera on January 16.
MORE: FARC claims responsibility for bomb attack in west and helicopter crash in northern Colombia
The incident came just one day after the FARC ended a month-long unilateral ceasefire and was condemned by Colombia's President Juan Manuel Santos as a "vile act of terrorism," while the rebel group's leaders claimed that they never the intention to harm the civilian population and announced "disciplinary measures" for the units responsible for the attack.
Attacks like these, aiming at the country's civil population, raise the question if some units of the rebel group are acting more and more autonomously from the organization's leaders that are currently negotiating a possible peace deal with Colombia's government in Havana, Cuba.
The northeastern state of Norte de Santander has been heavily affected by rebel activities in recent past, not only by units of the FARC's eastern Block, reportedly one of the strongest in military terms, but also by a military offensive against the region's petrol infrastructure initiated the country's second largest rebel group ELN last year, which shut down Colombia's second-largest oil pipeline in October 2013.
According to RCN La Radio, the ELN continued this offensive in 2014, attacking a crude oil reserve in January, reportedly causing the deaths of seven rebel fighters during encounters with the army.
MORE: Northeast Colombia oil pipeline attacked for 3rd time in week
MORE: Human rights watchdog warns of 'imminent crisis' in town long besieged by FARC forces
On Wednesday Colombia's Minister of Defense announced a policy initiative in order to strengthen the police and military presence in the area, promising 30 additional soldiers and more than 200 additional police officers for the rural sites of the region, while more than 200 additional policemen will be provided to the states capital of Cucuta, according to Ministry of Defense's press release on Wednesday.
Ocaña, Norte de Santander
Sources
The post FARC accused of planting car bomb in Colombia's troubled northeast appeared first on Colombia News | Colombia Reports.
Since you're here …
… we have a small favour to ask. More people are reading the Today Colombia than ever but advertising revenues across the media are falling fast. And unlike many news organizations, we haven't put up a paywall – we want to keep our site as open as we can. So you can see why we need to ask for your help. Updating reports on Today Colombia takes a lot of time, money and hard work. But we do it because we believe our reports matter.
If everyone who reads Today Colombia, who likes it, helps to support it by clicking our ads, our future would be much more secure. Do you part, click on an ad today.